Recessive Stripes ? I dont think sooooooo !
Hi again ....
Remember my pair of het albino Khal full stripers I bought not last year but the year before that turned out to be 2 males ???
Remember when I was saying I dont mind ... and i'm more than happy because i never saw in so many years of breeding ( Not khal stripes ) a partial striped or whatever abherant ( what ever you wanna call them ) not show in the first generation when bred to a normal ?
I should be in heaven but i'm not ...... i'm not because it gets me sad to see how much crap there is on the net . Look on K.S how many people breed het striped boas ........ look at how many of them hets "already have " a part of striped or alot of striping ...... look in their litters they have in the first generation " stripers" no matter the amount of stripe......
Look at how many supposingly breeders pop out everyday saying they have 100 years experience ..... those same breeders that breed those supposingly hets , but never saw the dominance in them because they bought them as " hets " and not dominants , they dont even question their results and still advertise them as hets when its time to sell even if they had striped ones in the litter ..... It show how many people have a " NAME " just because of the amount of money they spent buying their high end boas ..... not because of the 100 yrs experience they have ....
Anyways here are some pics ....... of the DOMINANCE ...... some of you and in the states " some Big headed breeders " called me weirdo and that I was on pills in private when we discussed the dominant/recessive thing of "stripers" or "Abherants " call them whatever you wanna call them ....being dominant because I never saw any stripe , connected pattern , partial stripe or full stripe that never showed up in the first generation in boas ..... and this since I breed boas ....
Anyways who am i again to argue ........ I think again i'm gonna sell the "normals " ( with no abherancies ) as hets more or for more selling capability .... just to go with the net flow .... ...... where is the raised midle finger Icon ?
Here's the pics ... enough bull****
Its a female I was keeping that I got from my friend Vlad .... She is connected to the female that gave the 2 paradox at his place ( the one he was supposed to sell me after she gave birth .... that for verrrrrrrrry good reason he's gonna keep now ........ I'm raising a group of those because this is another thing i'm sure its genetic and that needs to be proven .... I think it mught be dbl or triple or quadruple recessive .... this would explain the sporadic paradoxes that pop out from time to time with no constancy ) .... the line that gave 4 in total .....
i'm soo convinced that more paradox are gonna come out of there at one point that I bought that female for 1000$ + half of this litter ..... ( I offered not Vlad asking soo much to make thing clear ... )
I will never thank Vlad enough for selling it too me
Nick .... yours is gravid now and looks good as well
Khal Dominants striped
The pics ....
The birth ...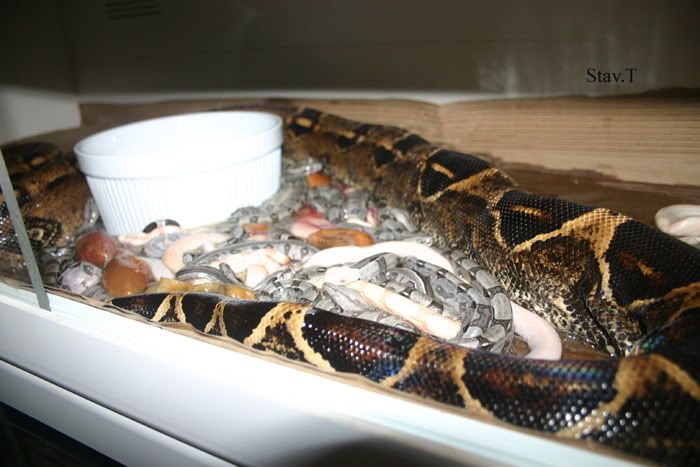 The litter .... well without the surprises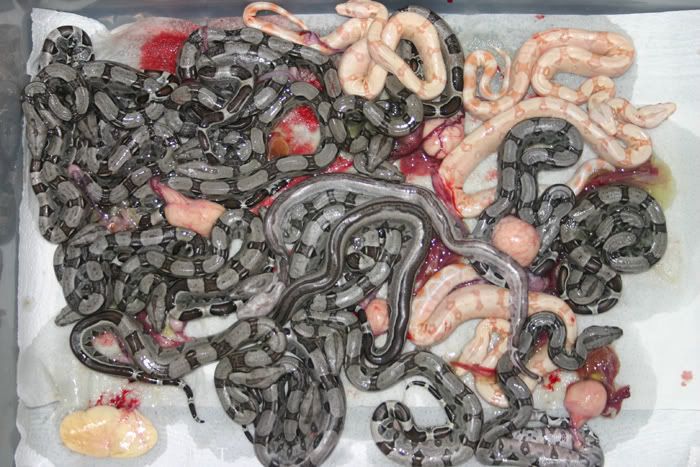 For size...
Striped 1 stillborn..
Striped 2 top shape..
Albino Striped