Rexxaroo
View Profile




Enclosure upgrade to Beardie Heaven ;)
So I decided since Rexx just got a cage revamp, I may as well re do charizards cage while I was at it.. and then as we owners do, got carried away with a little project ;)
He WAS living in 50 gallon tank that was naturally set up, until I saw the timeless spirit enclosures and decided, well, why not? Only the best for my babies :)
So, 60 bucks later, I had everything I needed and boom, new home!

So we went from this..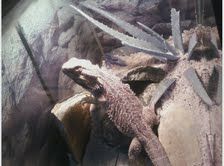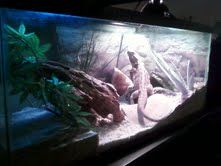 To this!~<3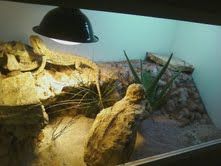 The dimensions for the enclosure are 24 1/2 inches deep, 40 inches long, and 24 inches high.
The lights are a 100 watt floodlight from home depot, and an 18 inch 10.0 zoo med UVB fluorescent strip.

The raised structure is built on a cardboard armature layered with Great Stuff expanding foam. On top of that, it is covered with two layers of thinset grout, sealed with Polycrylic Min-Wax, and one more layer on top of quick-crete.
The last layer of quick-crete was sprinkled with a red sand/ clay mix, and sealed with spray on Hodge Podge acrylic sealer.

The substrate is a double sifted Paver's sand/ Excavator clay/ Clay mixture. About 1/3 of each even.
I did spray it with warm water, so it hardened up pretty nice, and clumps easily and holds its shape, yet is soft enough for him to easily burrow through.
It is about 5 1/2 inches deep.

The cave you see in the corner is a plastic hideaway cave and is built into the Great Stuff structure.
The two plants near the cave are hot glued down, and I will be adding more plastic vegetation to the whole enclosure, along with one more live plant.
I have the aloe in there, and will be adding a Hawthoria.

The walls are plain for now, but will eventually have an australian outback landscape mural on them once I sketch out the design.
I hope you all enjoy it :) More pics to come!

Rexx